Lavish Boutique Lodging in Staunton, VA

Find yourself spellbound by the luxurious accommodations at our boutique lodging in Staunton, VA. The Blackburn Inn is a 49-room hotel originally influenced by master builder and Thomas Jefferson Protégé, Thomas Blackburn, will offer an upscale, indulgent experience by blending its historic story and architecture with modern, state-of-the-art service. Originally built in 1828, guests consistently prove to be inspired by the dramatic hallway arches, vaulted ceilings, and intricate molding.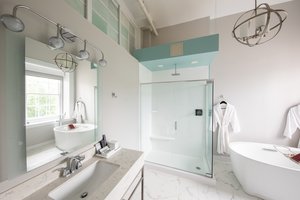 Seamlessly Blending History and Modernity
Of our 49 beautifully designed rooms, we offer 27 different floor plans, offering our return guests an unparalleled sense of versatility and dynamism. Our lodging in Staunton merges modern and historic expressions with elegant touches noted throughout the design, such as barn-style doors in oversized bathrooms and intricate architectural features. Our rooms feature a wealth of well-appointed amenities to offer you a comfortable and timeless home away from home while ensuring that you still enjoy access to all of the modern conveniences you have come to rely on for a solid night's rest and relaxation.
Please note that accessible and pet-friendly accommodations are available. All of our rooms are smoke-free.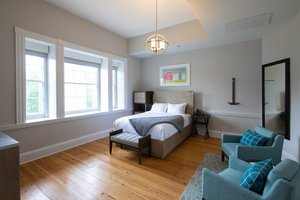 In-Room Luxuries
Among our beguiling amenities and services included with your room are:
Rainfall shower feature
Plush bath towels
12 ft. ceilings
Frameless glass showers
Complimentary luxury toiletries (shampoo, conditioner, body wash, soap, lotion, face wipes, Q tips & cotton balls)
In-room Keurig & refrigerator with complimentary bottles of water within