Skip to Content
Take a Day for Self-Care with The Spa at The Blackburn Inn and Conference Center
Going to the spa may not be top of mind after finally getting through your holiday to-dos, but it's actually a great time to decompress while giving yourself and your skin a winter refresh. The Spa at The Blackburn is a warm and welcoming destination catered to improving your wellbeing, with a host of massage, nail, and skincare options at our New Year pricing.
A facial is a great starting point for first-timers or regulars. We offer a range of treatments from our age-defying Evolution Facial to our Signature Facial, which was recently enjoyed by Suzanne Smith of the Lifestyle Blog @crazyblondelifeblog. She visited The Blackburn on a weekend getaway with her husband and booked a facial from one of our master estheticians and massage therapists at the spa.
Our variety of facials can address several skin concerns, including wrinkles and fine lines, and acne. Our most popular facial, The Blackburn Signature Facial, was created by our estheticians to be an age-defying treatment that uses gua sha and massage techniques to target the face, décolletage, and neck to restore elasticity, stimulate circulation, remove lymph, and re-sculpt the facial structure. This facial is fully customized for each client to address their specific skin needs and most of the products utilized are made locally.
Suzanne focused on utilizing a combination of methods to lift her skin and give her a youthful, glow complexion. Our master esthetician started with a hot towel compress, then utilized a skin spatula device to exfoliate the skin by using ultrasonic waves. Red light therapy was utilized, which is our go-to tool to reduce wrinkles, scars, redness, and acne. The treatment was finished with a luxurious moisturizer to leave the skin hydrated and refreshed.
The Blackburn also offers a host of other facials, nail services, and massages. Here are a few customer favorites:
Manicure & Pedicure: We work to improve the health of your nails, soften your skin, improve circulation, and condition your cuticles. Enjoy a warm-water soak topped with rose petals, then enjoy a calf, ankle, and foot massage using reflexology techniques.
The Evolution Facial: This facial restores skin's vitality and reveals a bright, smooth, and radiantly youthful-looking complexion. This must-have treatment provides immediate results. It includes a double cleanse, an age-defying exfoliation, a décolletage massage, a custom serum with treatment, and a custom moisturizer.
Hot Stone Massage: This treatment will relax, restore, and revitalize you. Swedish techniques are combined with hot stone therapy. Your therapist uses hands and stones to access tense muscle layers, blocked energy, and areas of pain. The combination of hands-on modalities with the heat of the stones provides ultimate relief.
Mineral Therapy Massage: opt for this amazing massage that will soothe arthritis, sore muscles and fatigue. The magnesium massage cream provides electrolytes needed to soothe inflammation and promote recovery. Medium Swedish techniques provide total relief, while enhancing circulation and blood flow to the muscles.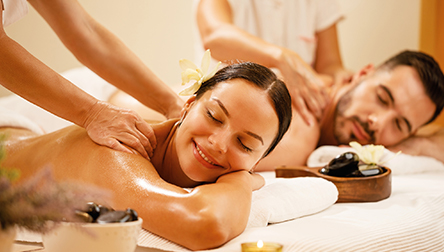 We also offer various packages for a spa getaway! If you're heading to Staunton, VA with your significant other, you will love our Couples Getaway package. Choose between a 75-minute Hot Stone Massage or a 75-minute Mineral Therapy Massage, and unwind afterward with champagne and strawberries delivered to your room.
Spa treatments also make the perfect gift, whether it's Valentine's Day, an anniversary, or a birthday on the horizon. With our new pricing, you can give the gift of relaxation or take some time for yourself at the spa at The Blackburn Inn and Conference Center.